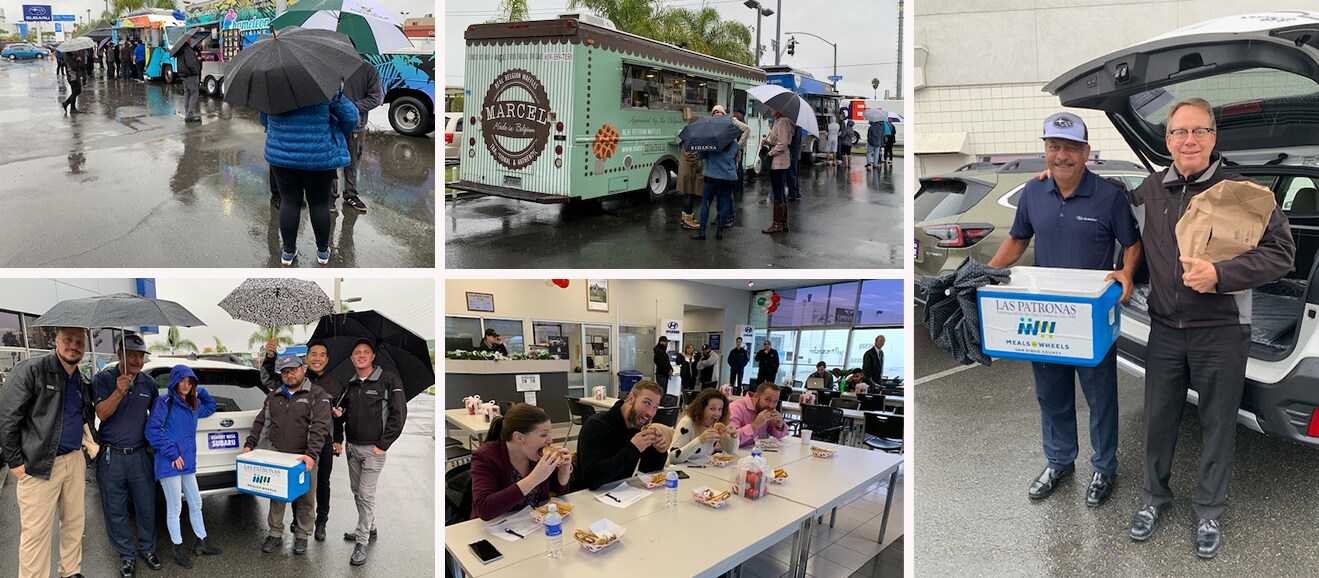 KEARNY MESA SUBARU HOSTED THEIR 8th ANNUAL SHARE THE LOVE FOOD TRUCK EVENT BENEFITING MEALS ON WHEELS
San Diego, CA - Meals on Wheels San Diego County and Kearny Mesa Subaru invited San Diegans to their annual Share the Love Food Truck & More Event & Competition on Wednesday, December 4, 2019 from 11:00 a.m. to 2:00 p.m. In celebration of the Subaru Share the Love event, San Diego's top food trucks were on-site serving meals to hungry patrons.
Kearny Mesa Subaru, located at 4797 Convoy Street in San Diego, once again hosted the awareness event that shines a light on the exploding need to help homebound seniors and encourages individuals to donate their time, talent or treasure. Additionally, Subaru donated $250 for every new car purchased or leased from November 14, 2019, through January 2, 2020 to the owner's charity of choice from four nationally selected agencies as well as Meals on Wheels San Diego County as one of the hometown charities selected by the dealership. 
Local celebrity judges for this year's event included, Emily Maguire of The DSC Show, Sky Williams from Rock 103.5, former Charger, Nick Hardwick and radio personality Brian Wilson, Director of Local Sports - iHeartMedia. They joined forces at the annual foodie event to judge the best chili from participating food trucks. Patrons of the event voted for their favorite competitor for the "People's Choice" award.  Ted Leitner, the voice of the San Diego Padres & San Diego State Aztecs, stopped by the event as well.
Food trucks and restaurants for this year's event included: Devilicious, Epic Eats, Quick Stop Grill, Born in Brooklyn, Eat your Heart Out, Chameleon Cuisine, The Groovy Greek, Marcel Belgian Waffles and Got Paella.
About Meals on Wheels San Diego County: The impact that Meals on Wheels has on the seniors they serve goes far beyond the wholesome meals provided. Daily friendly contact provides important socialization for those who may be isolated with little or no connection to the outside world. Lives are often saved in the course of delivering meals when a person does not respond to a knock on the door, has fallen or may have become ill. For over 58 years, Meals on Wheels San Diego County has contributed to the overall well-being of seniors by providing regular nutrition and daily contact with a caring volunteer. Learn more at www.meals-on-wheels.org or call 800.5.SENIOR.
Kearny Mesa Subaru is a member of the Sunroad Automotive Group which was established in San Diego in 1984 and includes 10 other dealerships in the area. The Sunroad Automotive Group has been proudly owned by a local San Diego family, for over 40 years, and continually gives back to support the local community. When you do business with the Sunroad Automotive Group you can expect to find a huge inventory of new and pre-owned vehicles, access to a large group of lenders who offer great finance options and the exceptional customer service you deserve. Go to Kearny Mesa Subaru's website at kearnymesasubaru.com or call (858) 278-7100 for more.
CONTACT: Raquel Rodriguez, R² Media Inc.
PHONE: (714) 544-9200
EMAIL: raquel@r2mediainc.com 

18231 Irvine Blvd. Suite 201 | Tustin | California - 92780