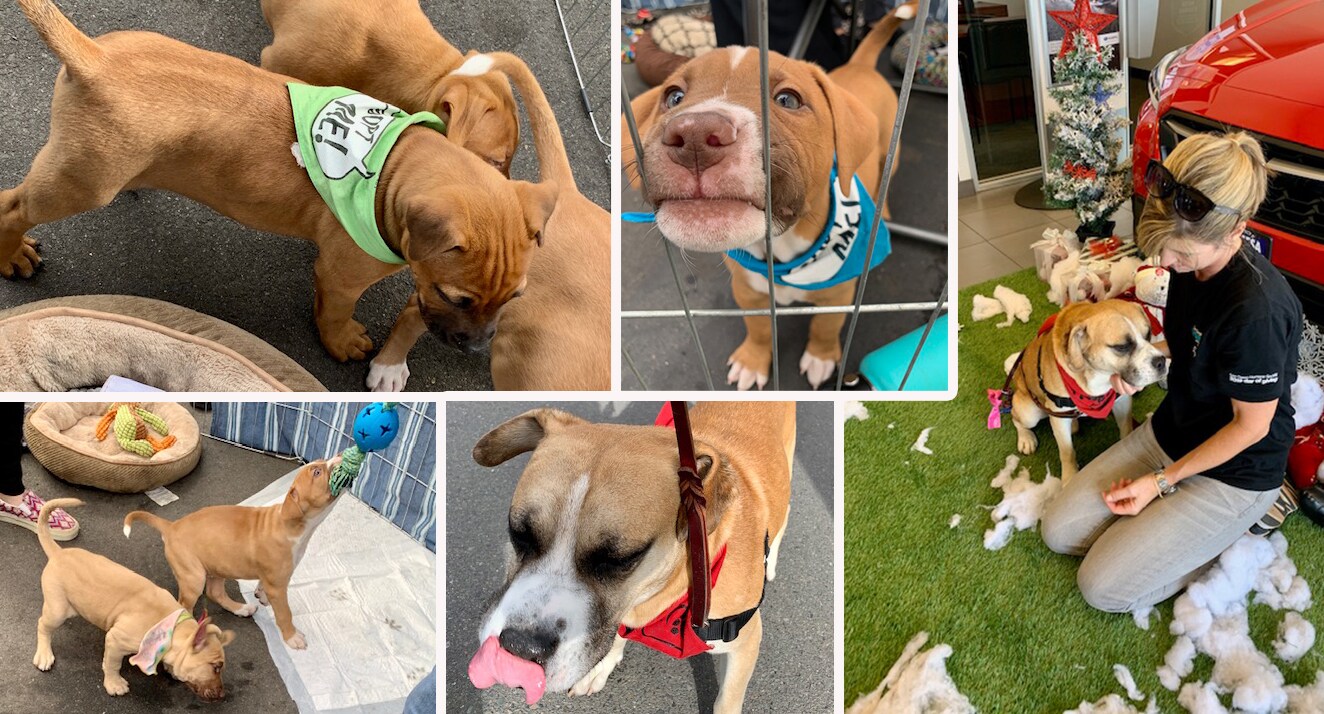 KEARNY MESA SUBARU AND THE SAN DIEGO HUMANE SOCIETY HOSTED THEIR 9TH ANNUAL SHARE THE LOVE PET EVENT
SAN DIEGO - December 14, 2019 - Kearny Mesa Subaru and the San Diego Humane Society and SPCA hosted their 9th Annual Share the Love Pet Event. The Share the Love Pet event took place on December 14th. Guests were able to adopt and interact with the adorable adoptable dogs, microchip their pets, receive complimentary id tags, get complimentary pet holiday photos and much more.
Kearny Mesa Subaru always enjoys putting together community events, but first and foremost they want to forward the message of helping animals find permanent, safe and loving homes. Additionally, for every new car that was purchased or leased from November 14th, 2019 - January 2nd, 2020 Subaru donated $250 to the charity of your choice. Please choose to help the San Diego Humane Society's homeless pets.
Dave McCracken, General Manager of Kearny Mesa Subaru highly encourages Pet Adoption Events and is one of the leading forces behind such a great cause. He said, "The San Diego Humane Society always does a stellar job in hosting adoption and community events. These events truly bring the locals together and it's really the animals that puts smiles on our friends and neighbors faces. Help support the San Diego Humane Society and Kearny Mesa Subaru in our pledge to rescue animals and to find them the loving homes they deserve."
The San Diego Humane Society and Kearny Mesa Subaru continue their partnership together to actively find homes for animals in need.
About the San Diego Humane Society and SPCA: 
Serving San Diego County since 1880, the San Diego Humane Society and SPCA's scope of social responsibility goes beyond adopting animals.  The Humane Society offers San Diegans a wide range of programs and services that strengthen the human-animal bond, prevent cruelty/neglect, provide medical care and educate the community on the humane treatment of animals. 
As one of San Diego's oldest nonprofit organizations, San Diego Humane Society has campuses located in Escondido, Oceanside, and San Diego as well as adoption centers inside Petco stores throughout San Diego County. San Diego Humane Society is supported solely through contributions, grants, bequests, investments, proceeds from the Muttique retail store and small fees for services. For more information or to view our current animals available for adoption; please visit www.sdhumane.org. 
Kearny Mesa Subaru is a member of the Sunroad Automotive Group which was established in San Diego in 1984 and includes 10 other dealerships in the area. The Sunroad Automotive Group has been proudly owned by a local San Diego family, for over 40 years, and continually gives back to support the local community. When you do business with the Sunroad Automotive Group you can expect to find a huge inventory of new and pre-owned vehicles, access to a large group of lenders who offer great finance options and the exceptional customer service you deserve.
For more information go to Kearny Mesa Subaru's website at kearnymesasubaru.com 
Pet Adoption Inquiry